Show/hide non-printing formatting characters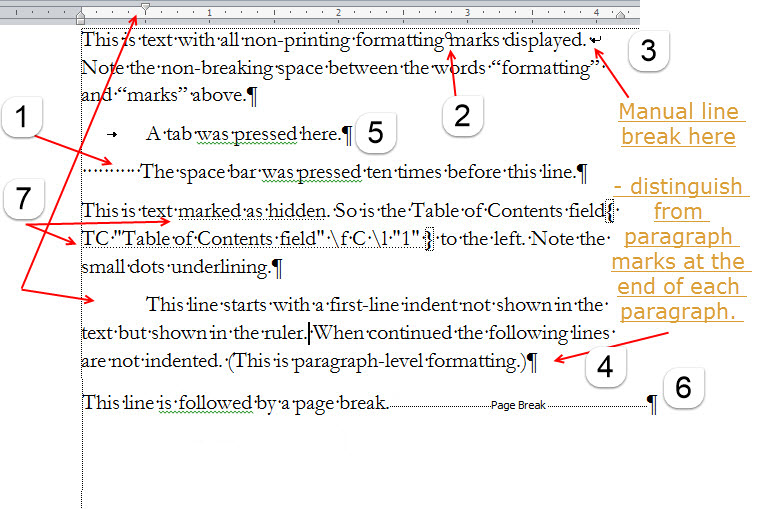 The Show-Hide non-printing characters button will toggle display. In Word 97-2003, it is on right end of the Standard toolbar between the Document Map button and the Zoom drop-down. In Word 2007-2013 it is in the Paragraph group on the Home tab.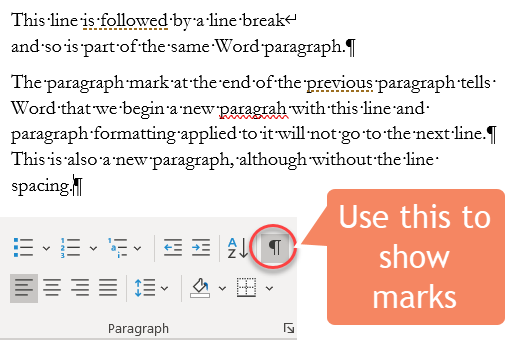 Show/hide button in Word 2003 and 2019 respectively
There is a keyboard shortcut for toggling display using Ctrl+Shift+8 or Ctrl+*. These are not the keys in the numeric keypad but the regular typing keyboard. This shortcut works in Word 97-Word 2013 (and probably earlier and later versions as well).
The non-printing formatting characters include:
| | |
| --- | --- |
| | The paragraph mark at the end of Word paragraphs. (4 above) - Indicates Enter key was pressed. |
| | The Style Separator (looks like a paragraph mark in the middle of a paragraph) available in Word 2002 and later. (not shown) |
| | The manual line break that ends a line, but not a Word paragraph. (3 above) - produced using Shift+Enter |
| | The tab mark. (5 aove - beginning of line) - indicating Tab key was pressed |
| | Blank spaces that look like little dots between words. (1 above) - produced using Spacebar |
| | Hard (non-breaking) spaces that look like degree symbols between words. (2 above) - produced using Ctrl+Shift+Spacebar |
| | Manual Page Breaks (6 above) - produced using Ctrl+Enter |
| | Section Breaks (similar to manual page break) |
| | Column Breaks (similar to manual page break) |
| | Hidden text (marked as hidden in the Font Formatting dialog) including TC, TA, and XE fields. (7 above) |
See also: What do all those funny marks, like the dots between the words in my document, and the square bullets in the left margin, mean?
For more ways to examine formatting, see Checking Formatting - Word's Reveal Codes.
The paragraph symbol on the show/hide button is a "pillcrow" which is used by Word to designate an end of paragraph mark.
The flying pillcrow is a trademark of my Word sites.