Menus for AutoText (supplemental chapter)
What You Will Learn
After completing this lesson, you will be able to:
| | |
| --- | --- |
| | Categorize AutoText entries in AutoText lists using styles |
| | Create an AutoText Menu using the AutoTextList field |
| | Create a Custom Menu to hold specific AutoText entries |
Additional Written (and Web) Resources
AutoText Sampler by Charles Kenyon
How to add pop-up lists to any Word document, so you can click your way through changes in seconds by Bill Coan, MVP
Assigning custom button faces to your toolbar and menu buttons
Word for Law Firms and Lawyers

| | |
| --- | --- |
| | Word 97 for Law Firms (also at Amazon.com UK) |
| | Word 2000 for Law Firms (also at Amazon.com UK) |
| | Word X (2002) for Law Firms (also at Amazon.com UK) |
| | Word 2003 for Law Firms (also at Amazon.com UK) |
| | Word 2013 for Law Firms by Payne Consulting Group |
| | The Lawyer's Guide to Microsoft Word 2007 by Ben M. Schorr |
| | The Lawyer's Guide to Microsoft Word 2010 by Ben M. Schorr |
| | Microsoft Word 2007 and 2010 for Law Professionals Unveiling the Rules and Secrets of Legal Word Processing by Patricia Gordon and KAS Training |
| | other books about using Word |

AutoText links
Templates Menu in Microsoft Word
Moving (Sharing) Customizations in Microsoft Word
IncludeText Field Tutorial - for examples of how styles for imported text (including AutoText) effect formatting
Create a Custom Menu to hold your AutoText Entries (Word 97-2003) (For 2007 and later see below.)
There are (at least) two ways to do this, neither of which involve macros or VBA. The first method requires use of styles in both the creation and implementation of the AutoText entries. The second method require using the Customize... dialog under the Tools menu to create your menu. Once created, this menu works like any other Word menu. Both methods are demonstrated by the AutoText Sampler download. Both methods are intended for creation of a menu in a document template or global template; they will be used in your documents and templates. A custom Word menu is demonstrated in the Gender Toolbar template which has numerous fields saved as AutoText entries that are accessible from a custom menu. These methods will work in later versions of Word as well.
Use the AutoText Entries drop down box (built-in field) in your text as a field
This method involves use of Paragraph styles in both the creation and use of the AutoText. Unless a paragraph mark is a part of the AutoText entry, the style in which the entry is created will have no effect on the formatting of the inserted text. It will, however, change the category under which the entry is classified by Word.
Creating your AutoText Entries so they will be placed in a category by Word.
To create the entries for your list, type them in a document where they would normally be used. This document should be based on a template other than Normal.dot. Then select a potential grouping of text that you want to fit into a particular category. For this exercise, be sure that the text does not include a paragraph mark. Go to the Format menu and select Style...
A dialog box will pop up with your current style selected. Unless you have already created a style for this kind of entry, click on the New button. This will pop up another dialog box for the creation of a new style. Give your new style a name, i.e., "z Interrogatories - AutoText." The "z" is in the name to put it at the end of most Styles lists; the "AutoText" tag is to indicate the style's function.
| | |
| --- | --- |
| | WARNING: The AutoText categories are based on Paragraph styles - not Character styles. The type of style you are creating will show up in the top right corner of the New Style dialog box. If it says "character," change it to "paragraph." |
Click on OK to close the New Style dialog box. Note that we didn't make any changes to the style, nor did we check the box about saving it to the template, we just gave it a name. That name will become the AutoText category for entries of this type. Click on the Apply button so that your current entry will be formatted using this style.
Then call up the AutoText dialog box.
Tools menu -> AutoCorrect -> AutoText (tab)
Change the box at the bottom so that it says: Look In: your template's name. What you want here is the name of the template on which your document is based, not "All available templates," or "Normal.dot."
Click on the Add button to add your entry. Choose a name for your entry so that it will be clearly identifiable when you use it. (i.e., pid Expert - treating physician)
| | |
| --- | --- |
| | Tip: Use a naming convention for your AutoText entries that will group the entries together by their intended use. We have already made the major cut. Our style name tells us that this entry is for use as an interrogatory. In the suggested name above, the "pid" stands for personal injury defense and the "Expert - treating physician" gives us the subject of the interrogatory. Other names might be "pid Expert - other care provider" and "pid Expert - Accident Reconstruction." This way, all interrogatories relating to expert witnesses in personal injury cases where the firm represents the defendant will be grouped together in your category list. |
| | Tip: Make sure that the starting part of the name is not a real word (or if four or more letters, the start of a real word that you are likely to type). Otherwise, you may end up inserting your AutoText entry in unexpected places! |
| | Tip: If you need to include multiple paragraphs in an AutoText entry, you can create styles that are used only to categorize AutoText entries and use your ordinary styles to hold your content. Word picks the category from the first style in an AutoText entry. If you format your naming styles as 1 pt. white hidden text, you should be able to use a paragraph in that style at the beginning of your AutoText entry without disrupting your documents much. I would suggest putting the following text in that paragraph: THIS IS AN AUTOTEXT NAMING PARAGRAPH AND MAY BE DELETED. |
Then select the other text that you want to use for entries, one word, sentence or paragraph (without the paragraph mark) at a time. Change the paragraph style of each paragraph to that of your category style and add the autotext entry, each time checking to make sure that it is being saved in your template.
At this point, close your document, without saving the changes to the document but saving changes to the attached template. You are now ready to create a drop down AutoText list based on the entries you just made.
You can include paragraph marks in your AutoText entries but if you do this, your text in that paragraph will maintain its style. If the style already exists in the document, it will use the style definition already in place. If the style does not exist, it will be imported. See the IncludeText field tutorial for examples of the sorts of result you will get.
Creating the drop-down AutoText list
Use File -> New and create a new template based on the template to which you just added the AutoText. (Click radio button for "New Template" instead of "New Document" in the bottom-right corner of the dialog box.)
(more to be written here)
The text in teal which which follows is from the Word 2000 help screen on inserting a drop down field for AutoText:
On the Insert menu, click Field.

Under Categories, click Links and references.
Under Field names, click AUTOTEXTLIST.
Click after the field name in the Field codes box, and then type the text that you want to appear on the screen within quotation marks — for example, "Recipient List".
| | |
| --- | --- |
| | To display AutoText entries formatted with a style different from the one applied to the field code, click Options in the Field dialog box, click the Field Specific Switches tab, and then click \s under Switches. Click Add to field, click in the Field codes box, and then type the name of the style within quotation marks. |
| | When the user's mouse pointer rests on the field and ScreenTips are on, a tip tells the user how to display the list of AutoText entries. To change the ScreenTip text, click Options in the Field dialog box, click the Field Specific Switches tab, and then click \t under Switches. Click Add to field, click in the Field codes box, and then type the text that you want to appear in the ScreenTip within quotation marks. |
See also How to add pop-up lists to any Word document, so you can click your way through changes in seconds by Bill Coan, MVP.
For Word 2007-2016 (365) an easier way to categorize AutoText may be to put it in separate custom Galleries/Categories. Then you can use a Building Blocks Content Control restricted to a certain Gallery and Category.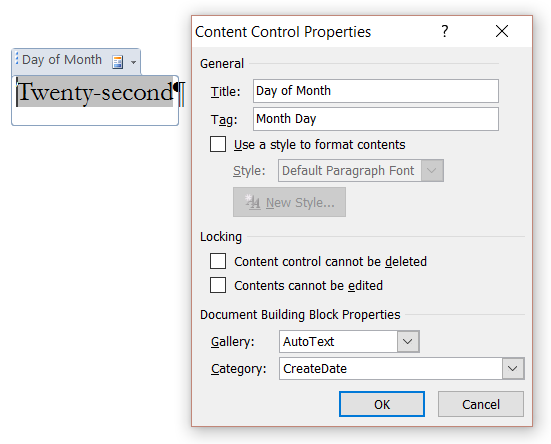 See Greg Maxey's site for more on this.
Build your own custom menu(s) of AutoText entries by creating a toolbar
Here's how, in eight easy steps.
First, I would recommend creating a new template to hold your AutoText and your toolbars. Then copy your AutoText entries to that template using the Organizer.
(Tools | AutoCorrect | AutoText (Tab) | Organizer (Button))
Second, use the Tools | Customize... command. Make sure that the template in which the customizations are to be stored is the template you want.
Third, create a new custom toolbar to hold your menu(s). This is done under the Toolbars tab of the Customize dialog box.
Fourth, click on the second tab (commands) and scroll all the way to the bottom of the list on the left. You will find "New Menu." Select "New Menu" from the list on the _right_ (it's the only thing on that list) and drag it to your new toolbar. Right-click on it and change the name to whatever you want it to be.
Fifth, one of the other categories of commands which can be added to a menu is "AutoText." Click on that (left box) and then drag the autotext entries you want to use (right box) onto your menu.
Sixth, once you have your menu(s) on your custom toolbar, close the Customize dialog box and save your template.
Seventh, open the Customize dialog box again if you want your menu to appear under the Tools or Insert (or any other built-in) menu. Holding the Cntrl key down, drag your menu to the built-in menu you want to use. Close the dialog and save again.
Eighth, save your template as a global. There are a number of ways to do this. Those ways and more on templates can be found at: http://www.addbalance.com/usersguide/templates.htm.
It is important to build the custom toolbar and to keep the custom menus on that toolbar even if they are going to be used in the built-in menus. This is because you can use the Organizer to copy custom toolbars but not to move customizations of the built-in menus. If you ever do move this toolbar to another template, be sure to move the autotext entries first.
See Moving / Copying / Sharing customizations for information on putting toolbars like this in a global template so that they are available in all of your documents.
Note, beginning with Word 2007, a better method would be to create a custom Building Blocks Gallery with Categories to share your AutoText. See Building Blocks & AutoText and Building Blocks Gallery Content Control for more on this. The templates for this can be stored in the Word Startup Folder, the Office Startup folder, or the Building Blocks folder. If they contain QAT modifications to access the gallery, though, they must be stored in one of the Startup folders.