Brief articles - downloads
How to Beat an OWI / DUI Charge in Wisconsin - How I look at a drunk driving case defense.
Field Sobriety Tests - videos that show what they are looking for, and more.
DUI / OWI / DWI / Drunk Driving Stop in Wisconsin - procedure
Information about the DUI / OWI Treatment Court for Dane County Wisconsin. (Third offense only.)
Information about court procedures in criminal Drunk Driving cases.
DUI / OWI / DWI / Drunk Driving while Parked in Wisconsin
DUI / OWI / Drunk Driving Training of Attorney Charles Kenyon in Madison, Dane County, Wisconsin - some of the advanced training in drunk driving defense take by Attorney Charles Kenyon
DUI / OWI / Drunk Driving Training of Attorney Charles Kenyon in Madison, Dane County, Wisconsin - some of the advanced training in drunk driving defense take by Attorney Charles Kenyon
List of Ignition Interlock Device Providers in Wisconsin

Dane County Wisconsin Court Brochures
What to do if the police want to talk with you. (Web page with videos.)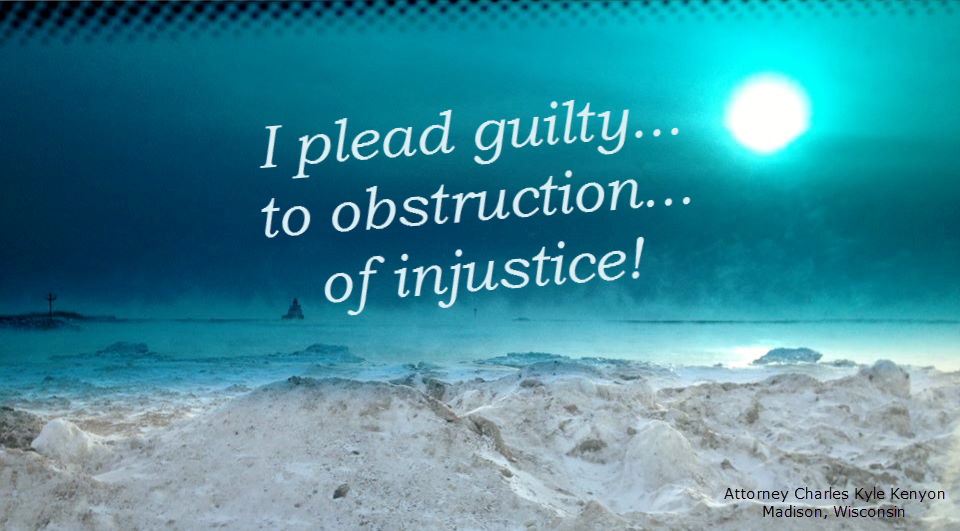 Other legal issues to think about
- Marijuana Prohibition
Kinds of charges Kenyon has handled include:

Homicide

First Degree Intentional Homicide (Murder)
Reckless Homicide
Homicide by Negligent Use of a Dangerous Weapon
Homicide by Negligent Use of an Automobile
Homicide by Drunk Driving
Attempts

Other injury to persons

Aggravated Battery
Substantial Battery
Battery - Domestic Violence
Armed Battery
Battery to a Peace Officer
Felony Battery
Reckless Endangerment
Injury by drunk driving
False Imprisonment
Felony Child Abuse

Theft and misappropriation

Theft
Forgery
Embezzlement
Auto Theft
Theft of Firearm
Theft by Contractor
Theft by Fraud
Theft of Cable Services
Securities Fraud
Extortion

Peace and Order

Disorderly Conduct - Domestic Abuse
Domestic Violence - Domestic Abuse
Restraining Orders
Strangulation or Suffocation
Lewd and Lascivious Behavior
Harassment
Improperly Taking the King's Deer (Hunting out of season or shining)
Other DNR Violations
Carrying a Concealed Weapon
Carrying a Weapon in a School
Hit and Run
Fleeing or Eluding an Officer
Disarming a Peace Officer
Resisting an Officer
Reckless Driving
Recklessly Endangering Safety
Speeding
Voter Fraud - Illegal Voting

Drunk Driving - OWI / DUI / DWI / BAC / PAC

Drunk Driving - OWI - DUI - BAC - PAC - DWI
Driving Under the Influence of an Intoxicant (DUI)
Operating Under the Influence - OWI
Impaired Driving
Absolute Sobriety
CDL - Commercial Drivers License

Sexual Assault

First Degree Sexual Assault
Second Degree Sexual Assault
Third Degree Sexual Assault
Fourth Degree Sexual Assault
Sexual Assault to a Child
Incest
Date Rape
Sexual Predator (980) Commitments
Child Pornography
Continuing Sexual Assault of a Child

Robbery

Robbery
Armed Robbery
Car Jacking

Burglary and Trespass

Armed Burglary
Burglary
Trespass to a Dwelling

Damage to Property

Arson
Criminal Damage to Property

Drugs

Manufacture of Controlled Substances
Manufacture of Marijuana (THC)
Delivery of Controlled Substances
Delivery of Marijuana (THC)
Possession with Intent to Deliver Controlled Substances
Possession with Intent to Deliver Marijuana (THC)
Felony Possession of Marijuana (THC)
Unlawful Possession of Prescription Drugs
Obtaining a Controlled Substance by Fraud
Prescription Forgery
Park and School Enhancers
Informants and Undercover Officers

This list is not complete but is given to give the reader some idea of the scope of my criminal law experience. I have represented juveniles as well as adults on most of these charges. CKK